I looked up the lake - It looks great. It is a long way from the Ontario lakes I've been to, so the fishery may be different.
What time of year are you going up?
Pike flies aren't complicated, but they can be kinda spendy if you buy into a some of the current buzz on how big they should be.
I have lots of "killer pike flies" but am unsure what will work in that fishery. It looks like at least one lodge up there offers fly fishing, so we should be able to find out what works.
One of the things I did is look at the gear lures I catch pike on consistently, and tried to may fly-fishing versions of them.
My three most effective gear lures - by huge margins - are, in no particular order, #5 Mepps, Strike King Smokin' Rooster (Texas rigged over wire), and the 4 1/2" and 3 3/4" Doctor Spoon. So I focus on flies that are around those sizes. I focus on an 8 wt., so I work hard to come up with flies I can throw with that rod.
Pike are pure predators, so think forage species...from what I can see, that's going to be walleye, perch, and whitefish...so colors that get close to those would be part of my plan, but don't discount just plain white, yellow, black...or the all time killer, red and white.
If you've got the inclination, get Barry Reynolds' two books on fly fishing for pike. They are easy, enjoyable reads and full of good information. Any of Reynolds' patters are winners.
Pike on the Fly
Mastering Pike on the Fly
I've been tying a baitfish pattern on an EWG hook that is very nearly weedess: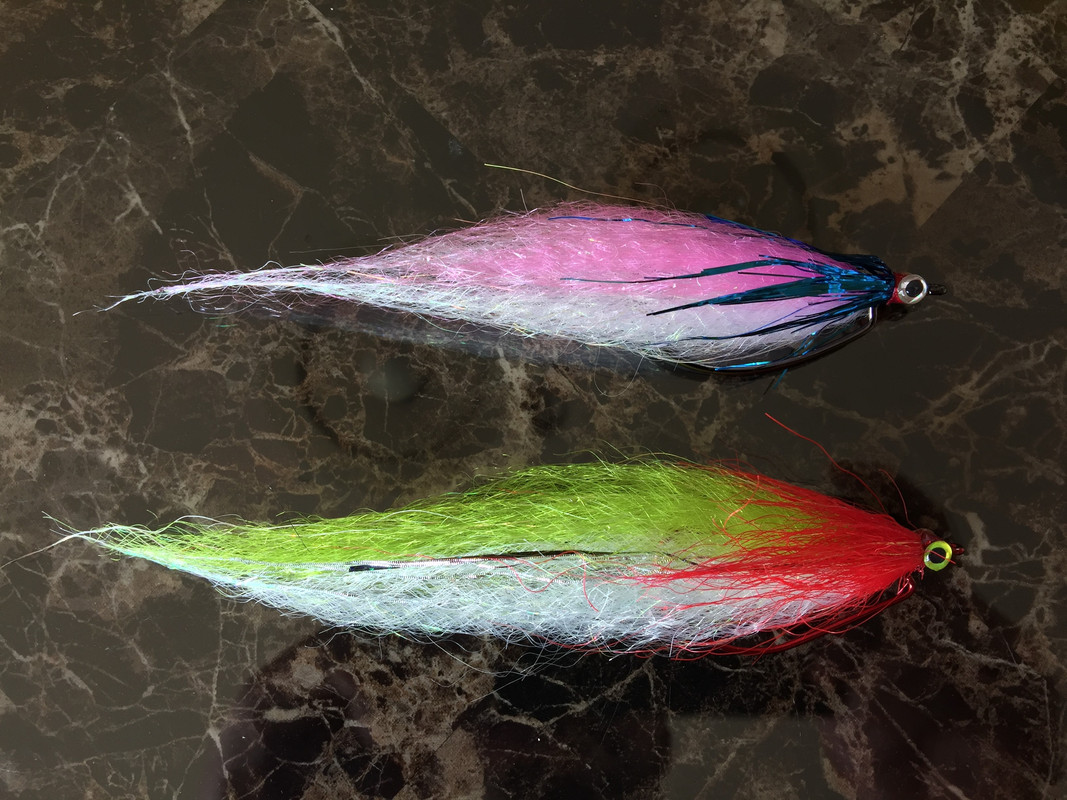 ...and their bigger brothers: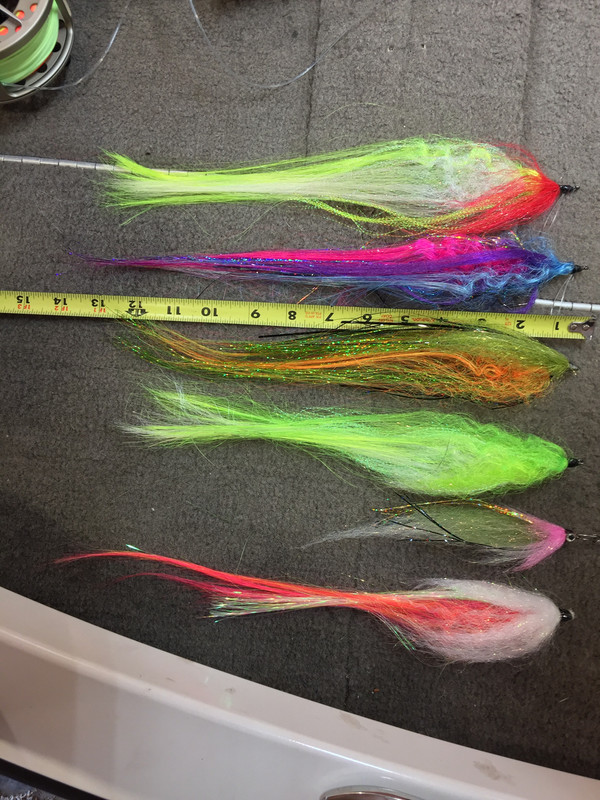 The red/chartreuse/white pattern is a killer, and a flat out theft of Rapala's "Clown" clor scheme.
I use only synthetics in these to stop them from soaking up water, and I tie them as sparse as possible. There's not much shank to tie to so it forces me to do that, which makes for a better 8 wt. fly.
Here are the hooks: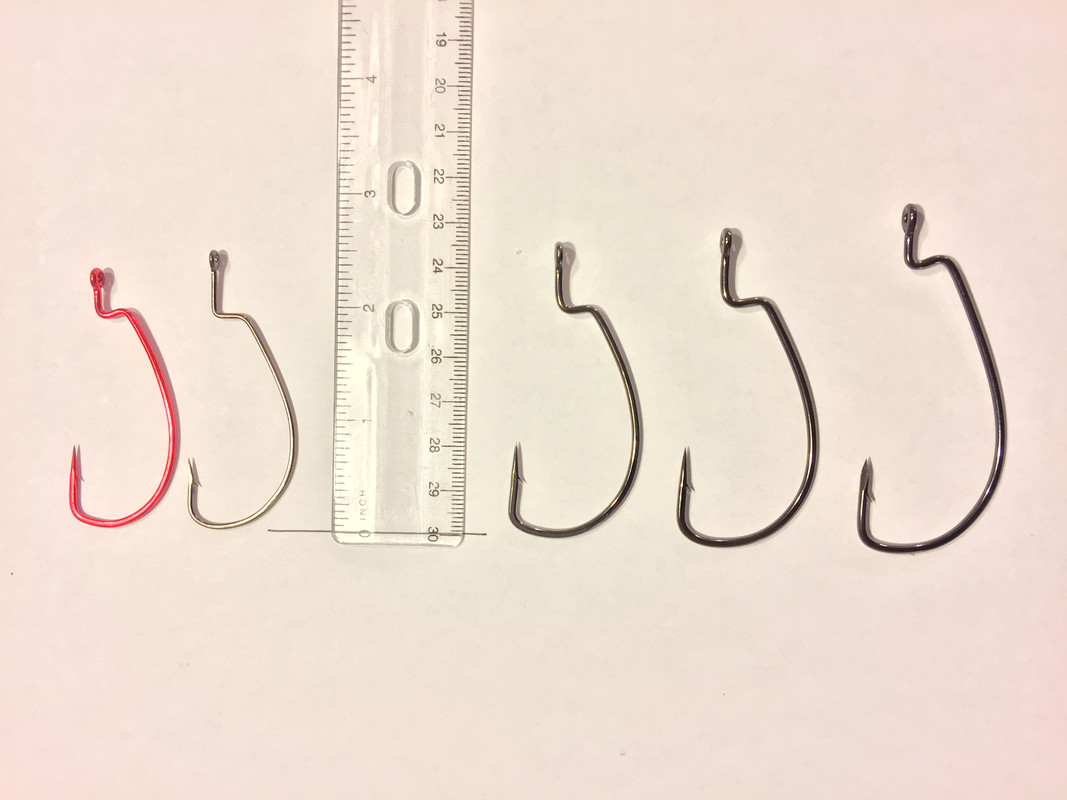 The red hook is an Gamakatsu EWG "superline" hook, the one next to is something I tried with a sightly longer shank and didn't care for...CRS the name, but I can check. Both are 5/0. Starting on the other side of the ruler are Trokar hooks in 6/0, 7/0 and 8/0. The Trokar hooks are beasts, and sharp. I like them a lot, but wish they were red...
Topwater...big poppers and sliders. I stick to foam as I don't care for all the work that goes into tying, and maintaining deer hair versions. Love the craftsmanship...but...that's not for me.
My favorite popper/slider heads are the "Double Barrel" heads:
Double Barrel popper heads
. I've tied some monsters, but have decided there's little benefit in that. and have been shortening them up.
I am also learning to love these:
Howitzer Baitfish Popper Heads
If' I could convince you to bump up to an 8 wt. for pike, I'd feel better. Not because we can't land pike on a 7 wt., but because the flies are big, and be heavy with natural materials and are often air resistant. Tossing pike flies of any size at all is going to get tiring in a hurry.
Good news: Casting for pike is not a distance game, so don't sweat that. I always have rods rigged for both surface and subsurface presentations, ready to go for when I get a follow and no bite - get the other fly in the water pronto!
Lines I recommend without hesitation: SA Titan floating line, Rio Single Handed Spey in top water and 3D. There are plenty of other options, but I did try the RIo Pike/Musky lines and wasn't impressed. You don't need long tapered leaders...there's no finesse in getting the attention of the apex predator in a lake...they turn
towards
big splash downs...but you will need wire. I like Tyger Leader and Surflon tieable. Tie in a clip. Join your wire to your leader with either an Alberto knot, or better yet, an FG knot.
Oh yeah: Work on your double haul. You'll need it.
I'm sure I've forgotten something...I'll come back and add it when I think of it.
...and here's this, to get your heart thumping:
https://www.youtube.com/watch?v=ZfbhrQu ... nd29ic2nIU
Grab a beer, a glass of wine or a whatever trips your trigger, settle in and watch. It's worth the 50+ minutes...trust me.
...and give this some thought: There are pike up there that
eat
2 - 4 pound brookies...